BERKELEY, C.A. (CAPE FEAR WEEKEND) - It's 2,892 miles from Wilmington, North Carolina, to Berkeley, California; that's a 42 hour drive or roughly 5 hours and 30 minutes if you fly. Really there aren't that many places farther away in the Continental United States, but, Berkeley is where this story takes place.
But --- it doesn't start there.
This story starts with a concert, an iPhone, and a seemingly impossible idea of getting up close and personal to photograph my favorite band, Nine Inch Nails (NIN).
There was just one little problem that stood in my way --- how would an investigative journalist and someone without professional experience behind a camera get access to the photo pit? After all, Nine Inch Nails has been a massively popular band since the '90s, they were inducted into the Rock and Roll Hall of Fame in 2020, and have won Grammy Awards, Oscars, and Golden Globes.
The idea started off more as a fleeting thought of, 'Oh that would be so cool,' as opposed to an achievable goal based in reality, but on September 11, 2022, it happened.
For those who haven't had the chance to see see Trent Reznor's band play live, it's an experience I highly recommended --- even if industrial music isn't your usual listening.
From the lightshow and performance alone I have managed to get my dad and my wife to attend shows with me. It's not the type of music you'd find them listening to on the way to work but both agree that the experience of the show alone has turned them into at least casual fans.
If you don't know what industrial music is, and more specifically, industrial rock, you can think of it as a mixture of electronic music mixed with rock music.
AllMusic defines industrial as, "The most abrasive and aggressive fusion of rock and electronic music, industrial was initially a blend of avant-garde electronics experiments (tape music, musique concrète, white noise, synthesizers, sequencers, etc.) and punk provocation."
It can be heavy and loud and largely unpolished, hence the genre's name, and although NIN didn't create the genre, they did help bring the music to the mainstream.
Nine Inch Nails preforms with a full band, but for nearly 30 years Reznor was the sole permanent member. Things stayed that way until his long-time collaborator, Atticus Ross, was made an official member in 2016. Nine Inch Nails' touring band consists of singer and multi-instrumentalist Trent Reznor, keyboardist and multi-instrumentalist Atticus Ross, Guitarist Robin Finck, bassist Alessandro Cortini, and drummer Ilan Rubin (although each member of the touring band is a multi-instrumentalist, for they all play distinct roles in live performances).
The plan comes together
I first saw Nine Inch Nails in Atlanta in 2009 when they toured with Jane's Addiction and I've been a fan of the band since the late '90s. Over the years I managed to make it to a few other concerts and in April of 2022 I saw them again when the band played Red Hat Amphitheater in Raleigh. It was the first show and tour since 2018 due to COVID-19 and despite the several-year hiatus from touring you'd never know it. The band sounded great and the energy from both the band and the crowd was electric.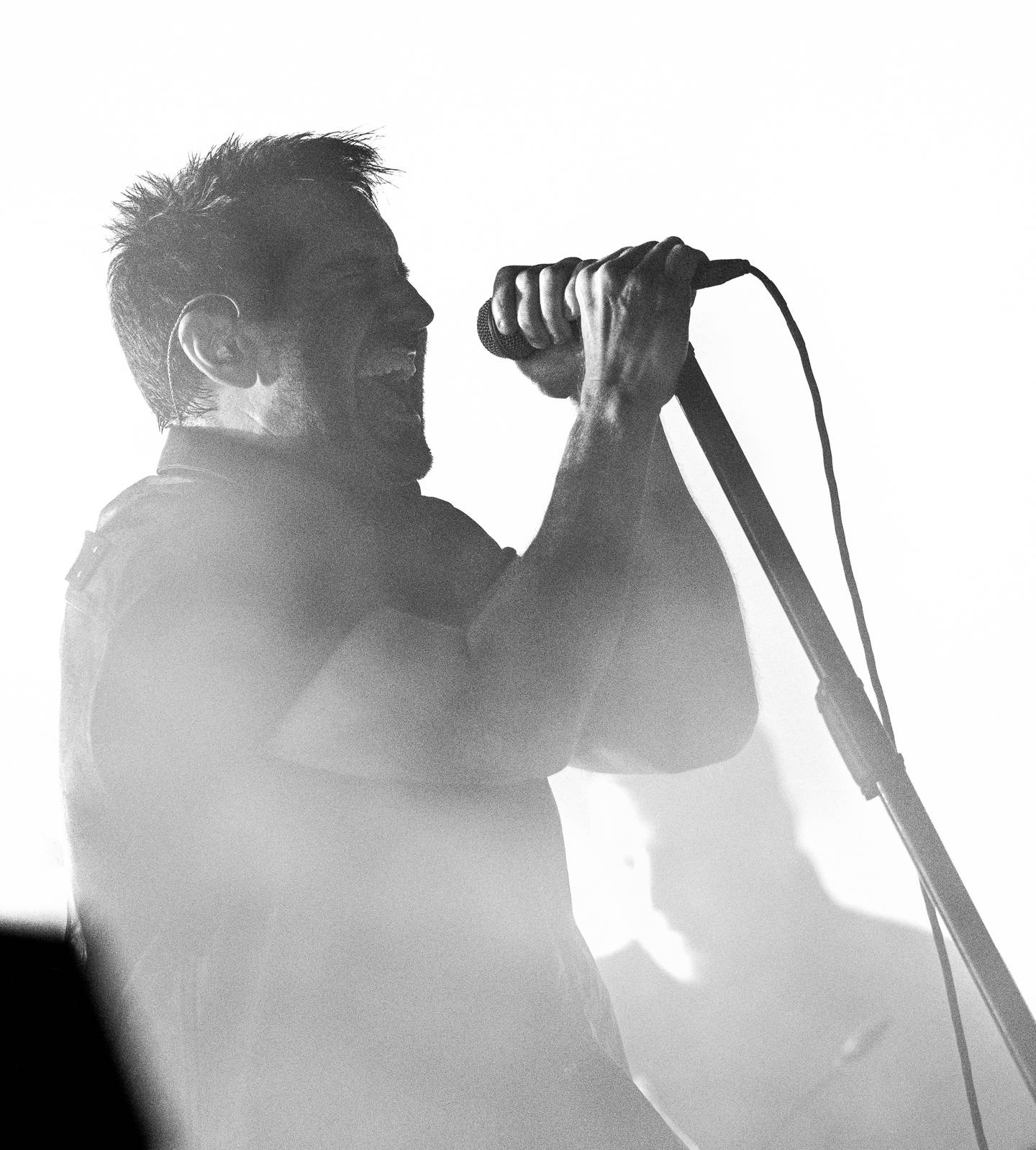 From the back of the venue I snapped some photos and videos that admittedly, were not the best quality. Nevertheless those photos are what led me to devise my plan. I was going to get into concert photography, a form of photography notoriously difficult to break into. From there, I was going to get a photo pass for Nine Inch Nails in Berkeley.
My wife and I planned to make the trip to California for a vacation, we already purchased tickets to see the band play at The Greek Berkeley, but attending the show was all I had counted on --- at first.
As a journalist I have worked with cameras for my entire career, it comes with the territory, but my knowledge and skills with photography were limited to snapshots for news stories and little else. To say concert photography is not the typical form of journalism I am used to would be an understatement. My role at WECT is investigative reporter and my days consist of in-depth research and reporting, definitely not photographing and writing band reviews. However, it is the type of journalism found in Cape Fear Weekend, WECT's lifestyle brand where things like restaurants and concert reviews are what it's all about.
After getting back from the concert in Raleigh I decided to try my luck and asked Cape Fear Weekend if I could photograph any concerts that their staff couldn't do themselves. To my surprise they said yes. For the next five months I jumped at every opportunity I was given. I drove to Raleigh to photograph bands and spent some late nights driving on I-40 trying to make it home before 1 a.m.
The first concert I photographed was The Struts at Greenfield Lake Amphitheater. With a borrowed camera from work, a few YouTube tutorials, and a whole lot of learning to do I managed to get some usable photos from the show. I'll be the first to admit that looking at those photos now they are less than perfect. Still, perfect or not, I stuck with it and managed to get more access to even bigger shows.
Within a few weeks I quickly realized that the borrowed camera wasn't going to cut it if I was going to play in the big leagues. I found a deal on a used camera online and within an hour I had a brand-new-to-me camera and started snapping away. Since it's difficult to recreate the scene of a concert without equipment I relied on things like led rope lighting set to flash and headlights from car
I bought was not going to cut it if I was going to make it to The Greek and upgraded my gear, it was an investment that has since paid off.
Since May I managed to photograph several other bands ranging from local acts at smaller local bars in Wilmington --- to massive bands like Rage Against the Machine in a sold-out PNC Arena in Raleigh. Every one of these shows was special and allowed me to practice my skills, but they also played a role in getting me one step closer to achieving my goal.
The long wait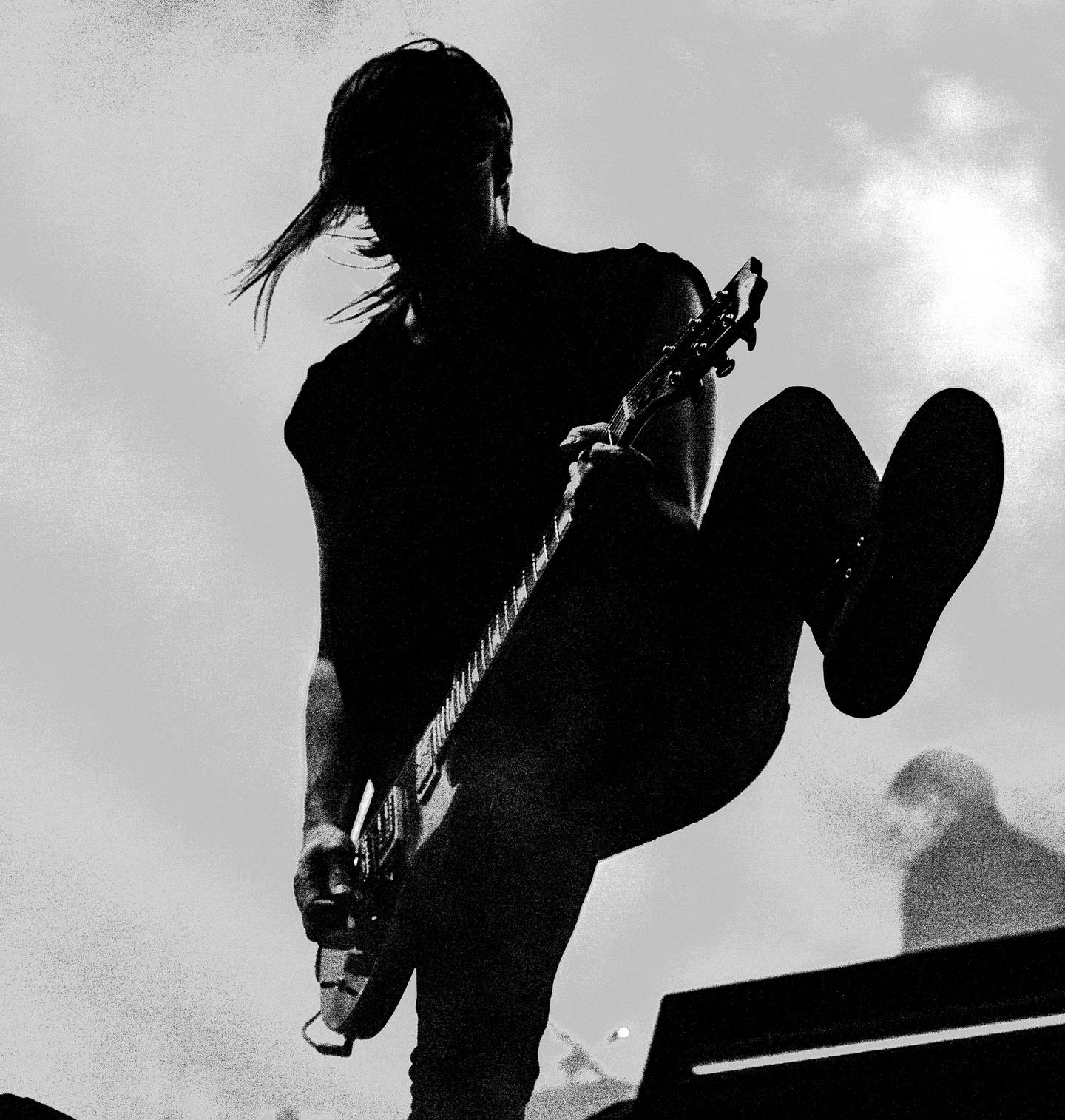 It was June when I sent my first request to NIN and right away, I hit my first challenge --- getting ahold of the band or their manager. It's not exactly easy to get in touch with major bands and unlike previous concerts, there was no website to directly submit a press request. Unsure of who to ask I reached out to The Greek Berkeley's media contact who told me she'd pass my email along to the band.
Grateful for the help but still wanting to make sure my request wasn't forgotten, I reached out to the band directly the one way I could think of --- on Twitter. For about seven weeks my message went unread. I knew it was a longshot, after all, NIN probably gets hundreds if not thousands of people sending them messages. Then, one day to my surprise, a message popped up in my Twitter inbox with a response. I got the email address for the band's publicist and I reached out immediately.
That email also went unanswered for weeks and I resigned myself to the likelihood that this wasn't going to happen. There was still hope though since when it comes to getting access to a show it isn't uncommon for band managers, publicists, and venues to wait until about two days before the concert before granting or denying a request. Still, I managed my expectations understanding the odds were not great. Again, a band playing in California doesn't exactly need publicity from an investigative journalist in Wilmington.
We packed for our trip and headed out to the West Coast for our vacation, I was hesitant to bring my camera gear with me but knew I would want it to capture the trip to the Bay Area, concert or no concert. Despite being on vacation I continued checking my emails hoping that I would get the news that I was approved for the show. As things got down the the final days, I figured if I was going to get approved, it would happen soon. Wednesday and Thursday passed without a reply and the show was on Sunday. I started to think this wasn't going to happen --- but on Friday --- that all changed and I got the news I had been hoping for for months. It was a short email simply saying, 'Hello Michael, You are confirmed for a photo pass for the 9.11 show.'
I refreshed my email again to make sure I was reading it right and sure enough my dream was going to happen.
Showtime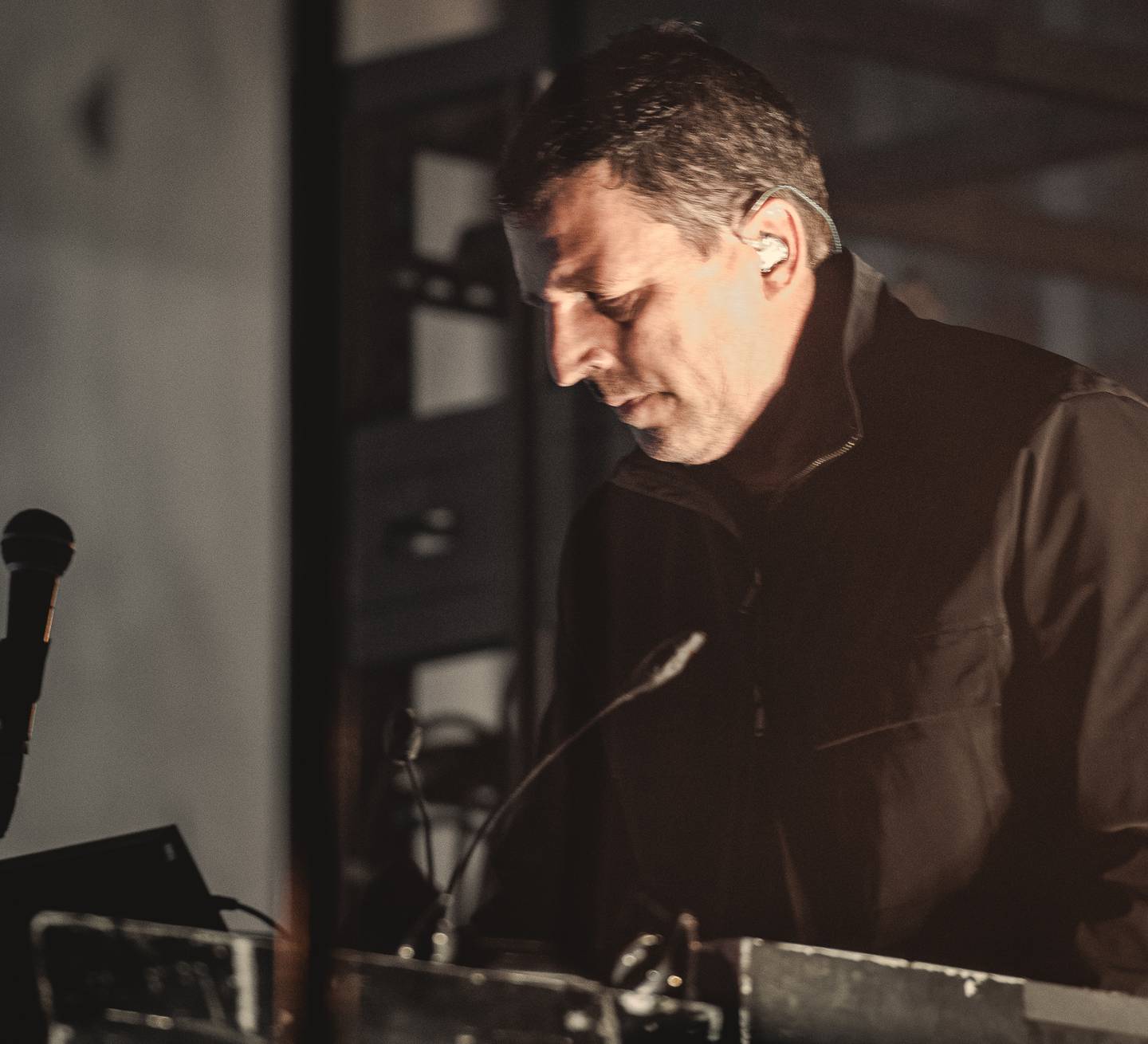 I've never been accused of being a patient person, especially when it comes to something I am excited for. So on Sunday I loaded up the rental car with my camera gear and headed to The Greek Theater early --- really early.
After exploring the University of California Berkeley campus for a few hours and checking out some record stores in the area, we made our way back to the theater around 2 p.m. where a line had already started forming to get into the show. Doors wouldn't open until 5:30 p.m. but the entire venue was general admission meaning anyone in line early enough could get the best seats.
After checking out the band's merchandise stand I made my way to the box office where I was told I would receive my press badge and a ticket to the show. When I got there there was just one other person standing around waiting so I struck up a conversation with him, it turned out he was also a photographer but he was there to take photos for the band since their typical photographer wasn't going to be able to make the show. When the will call line finally opened we told the attendant that we were waiting on photo passes from the band but --- he told us that he hadn't been given any. I started to get nervous as the minutes passed and there was no sign of our photo passes arriving. So, we did all we could do and waited. Eventually were given our passes and that's when the reality started to sink in. This grandiose idea I had pop into my head just five short months ago was happening. I was about to do something that, prior to this year, had never even crossed my mind.
After the opening band finished their set it was time for me to head down to the pit where I met several other photographers and we headed to the pit. For those who have never tried to take a photo at a concert I can tell you that they are extremely challenging to capture. You have to take into account the constantly changing lighting, the special effects, the other photographers in the pit all vying for the best shot, not to mention the fact that most bands only give you access for the first three songs.
When we took our places in front of the stage I knew right away that this show was going to be a challenge.
Unlike other venues the stage at The Greek Berkeley is taller than most making getting good photos difficult, but not impossible. Several of the other photographers stood on step stools and had a better vantage point, I figured I would just hop on their stools when they got down or moved around (and I did for a few photos) but then the second challenge appeared --- as the stage disappeared.
As the house lights went black, fog machines began pumping thick white smoke across the stage, another difficult condition for photography but not one that I haven't dealt with at other shows. The stage filled with smoke and I could see the band make their way to their places and the crowd's dull roar turned into a cacophony of excitement --- it was showtime.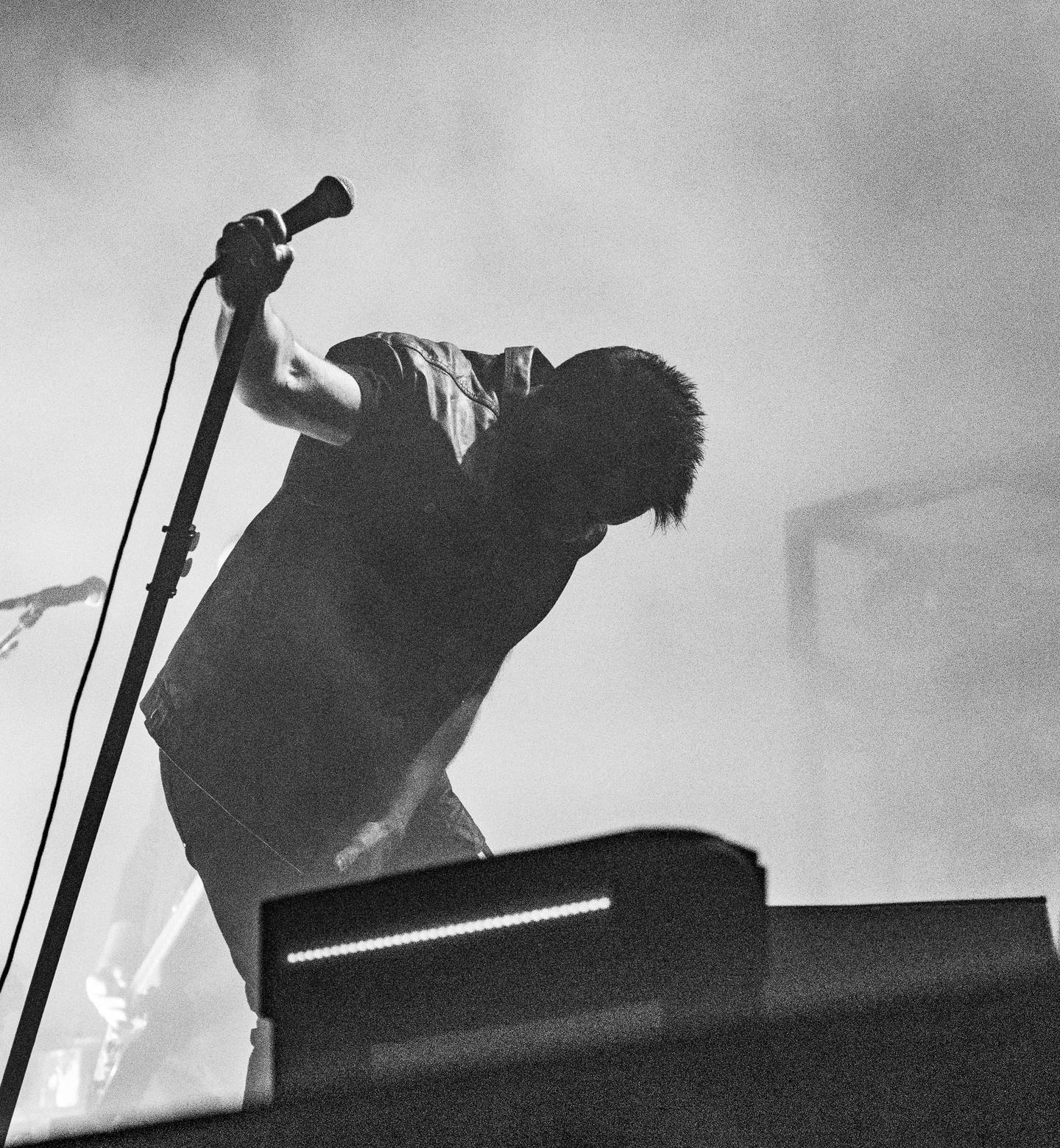 Everything I had worked for over the past five months was happening fast, I made sure my lens cap was off and checked my settings and prepared as best as I could under the conditions.
The show started and suddenly I realized the biggest challenge of all, the lighting.
The word photography comes from the Greek words for 'light' and 'drawing/writing' together meaning something along the lines of 'writing with light.' Without light photography becomes impossible and with too much light your photos turn into overexposed, all-white images. When you have a constant barrage of strobe lights you have both problems. I've seen the band perform in the past and know the light show is part of the entire experience, it's always been captivating watching from afar taking in the entire scene --- up close it was something else entirely.
The first three songs seemed to be nothing but strobe lights. That's not so great when you're trying to take pictures and trying to manually adjust camera settings in such a short period of time isn't feasible. It wasn't like I could ask the production crew to turn down the strobes so I could get some good shots so I set my settings to what I thought would be the best and started clicking away.
As a concert photographer I have learned just how short a few minutes can be and unless you're watching a concert like Dave Matthews Band where three songs can be 30 minutes, three songs go by fast. Reznor and the band opened the show with the song 'Somewhat Damaged,' a personal favorite, but there was no time to watch the show, I had a job to do. I'd stop and check my photos occasionally and take a few seconds to actually take in the scene, but it wasn't until it ended that I was able to take in where I actually was.
Over before I knew it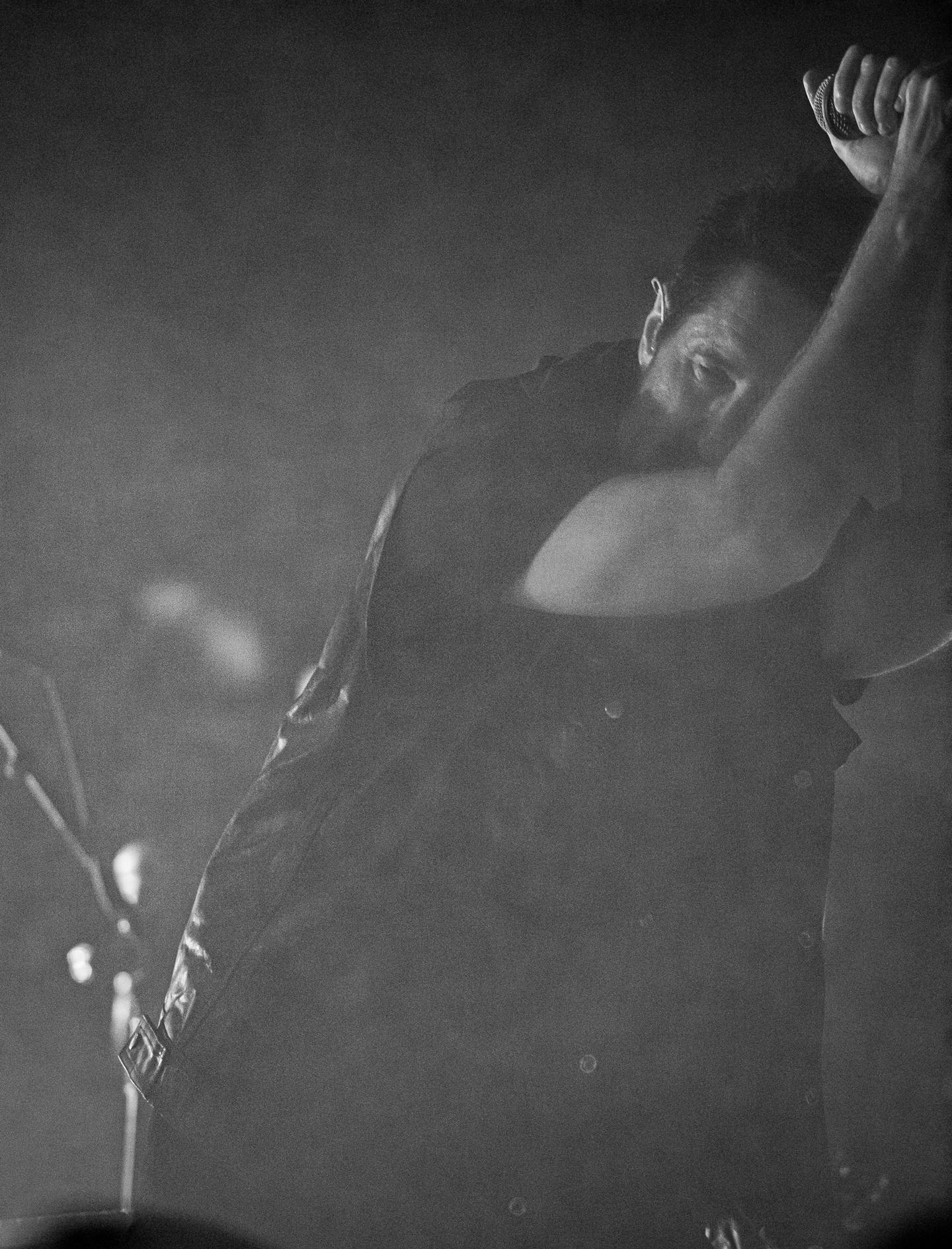 Those first three songs ended and I walked out of the pit a little bit concerned for my photos but either way, full of adrenaline realizing what just happened. When I got back to my seat, I looked through some of them but not wanting to miss any of the concert I put the camera away and decided to live in the moment and enjoy what I had come so far to see.
The show ended and we filed out of the amphitheater and got into our rental car where I faced yet another challenge, navigating the city after dark. After making some wrong turns on the interstate and ending up under an overpass in a construction site, I managed to find my way back to our hotel. When I got there I finally got the chance to look through my pictures, what I saw wasn't what I was hoping for. The first photo was black, the second photo completely washed out and bright, the third, black and so on.
After the first dozen or so images started to take shape on my screen and I let out a sigh of relief. Still, out of the hundreds of photos I took not every one was useable. Some were out of focus and others were either under or over exposed. Some of the photos that were salvaged are grainy and others lack the sharpness of a crisp photograph that I try and get at every concert. Honestly, the results were disappointing to me at first. My dream didn't turn out how I expected it to, but as I continued to look at the photos I realized they weren't as bad as I had feared.
Instead of polished like the hundreds of other photos I have taken of bands, these look industrial with silhouettes against against stark backgrounds and blurred faces.
But then I realized something.
The entire reason I have been drawn to the band for more than 20 years is because the music is not always polished or clean. There's distortion and sounds that some would describe as 'noise' and yes, there are some singles that the band has put out and make it to the radio, that's just the surface when it comes to exploring the band's discography. Even at that concert I realized my favorite band isn't perfect. Midway through one of the songs an equipment malfunction caused Reznor to stop the music and express his frustration with a few choice words and then move on to the next one. It was clear he wasn't happy about the mishap and that point was punctuated when he threw his guitar after the song ended hitting a stage light in the process. Reznor might have been upset but instead of disappointment from the crowd there was excitement for the outburst.
For me that flying guitar and disappointment in the interruption of the song was the manifestation of the emotions of Reznor's lyrics and music. It proves that no matter how many decades you've been doing something and no matter how well you rehearse and plan sometimes things don't turn out the way you wanted them to.
So no, the photos aren't my best work in terms of composition and exposure and there are things that I could have done better.
But for me the photos are like the music the band makes.
They're raw and noisy and certainly are not going to appeal to the masses some will criticize them but at the end of the day, under or over exposed these photos are more than just pictures to me.
They're reminders and proof that no matter how out of reach an idea seems, with a little bit of luck and a lot of passion, dreams can come true.
More photos: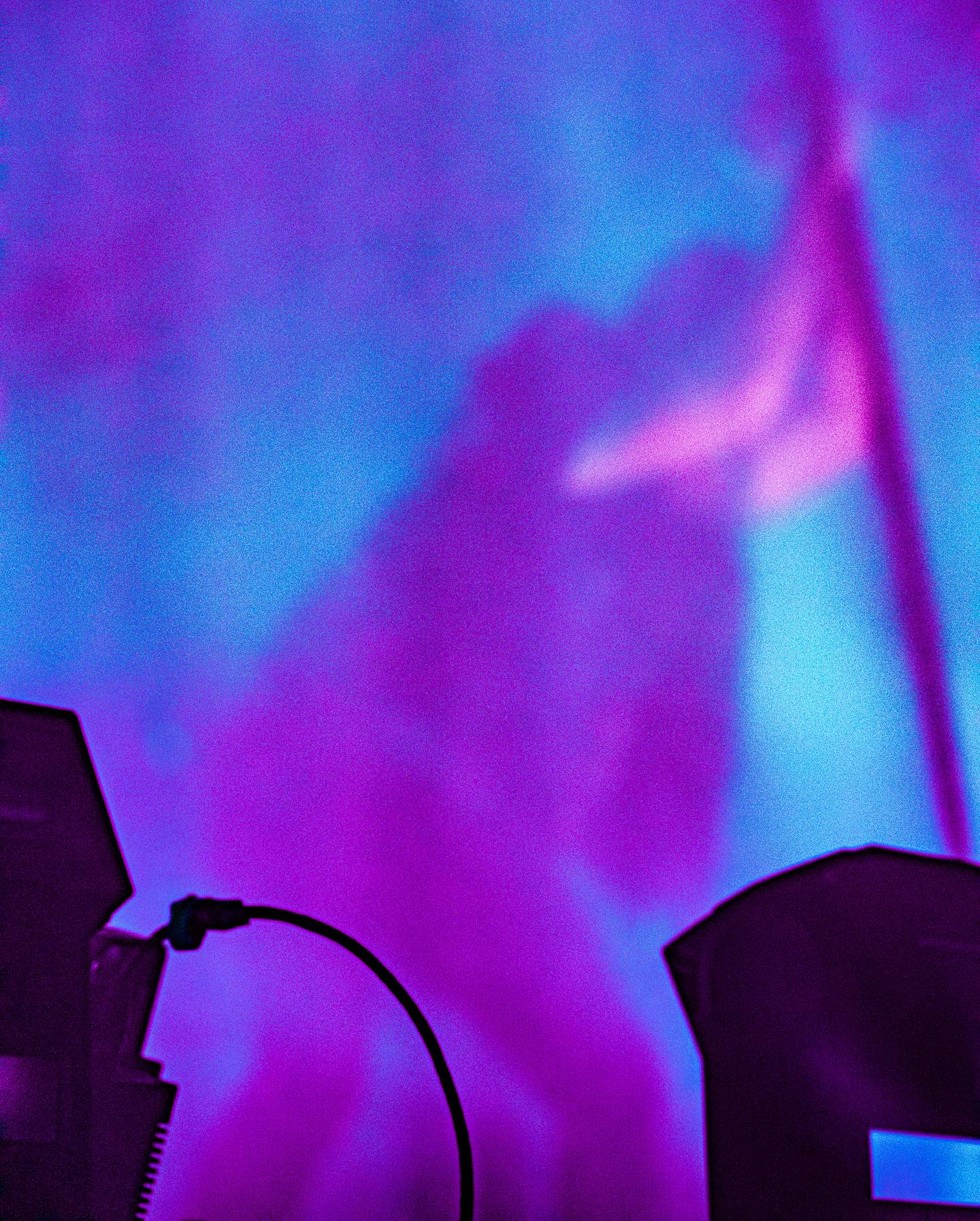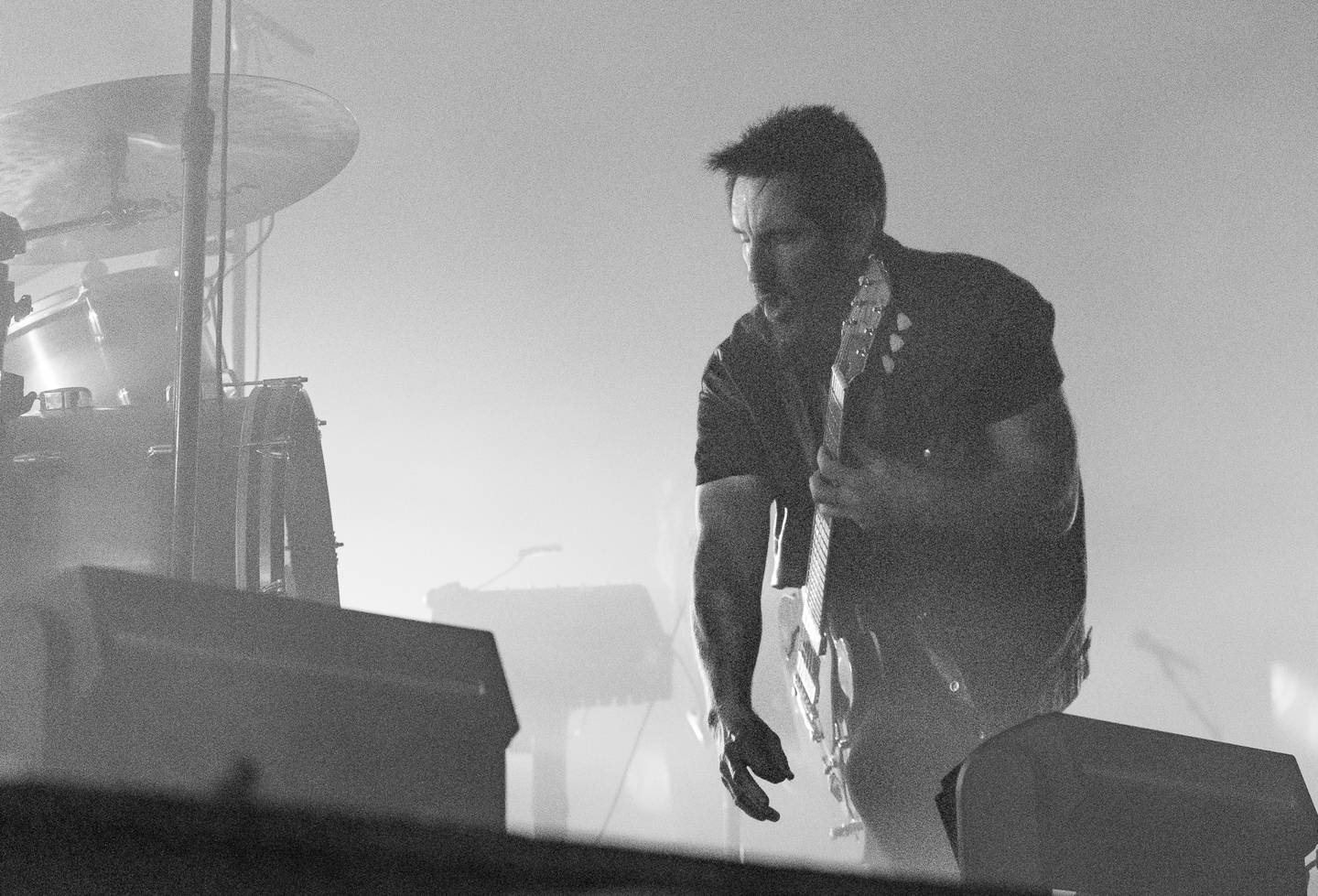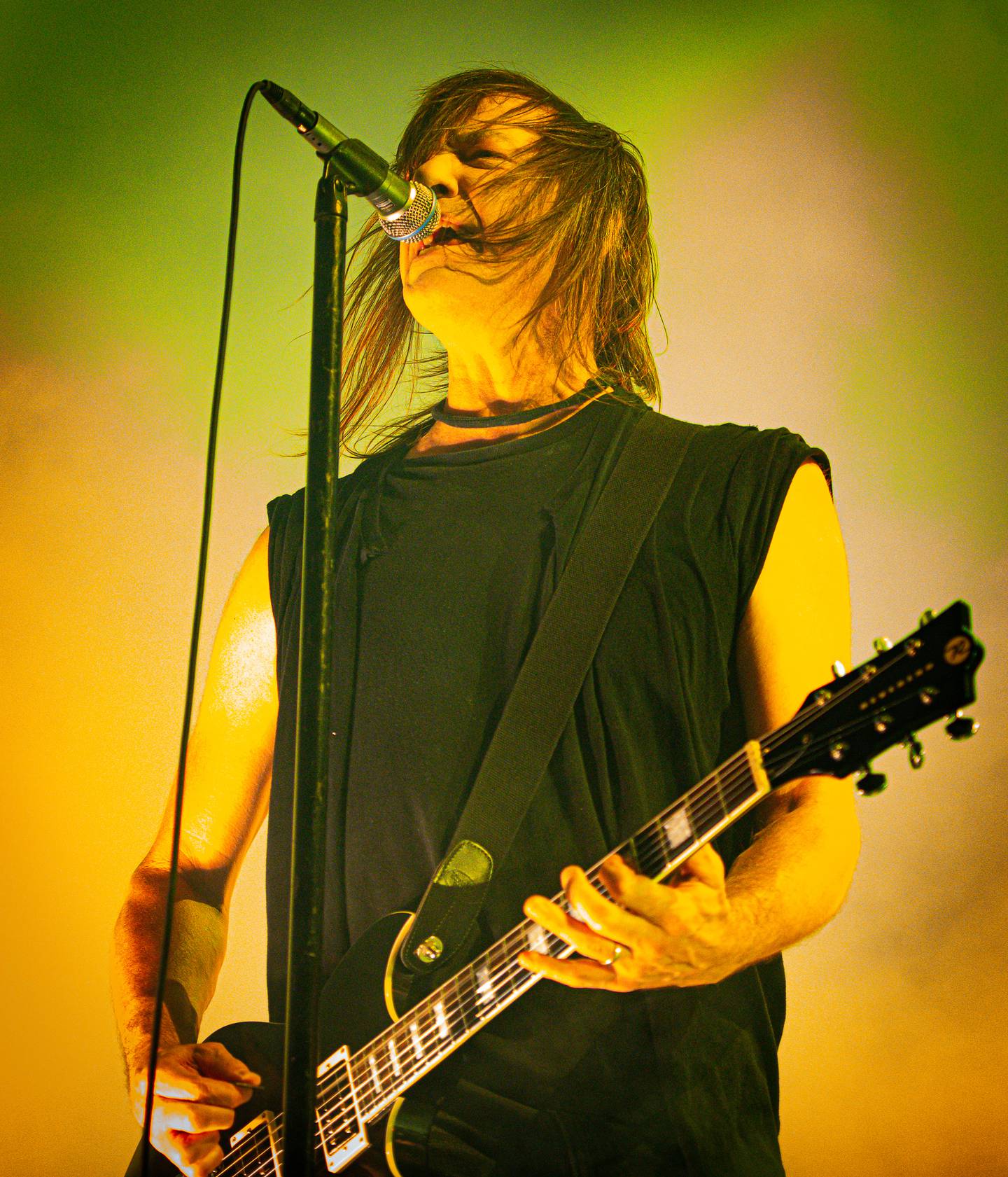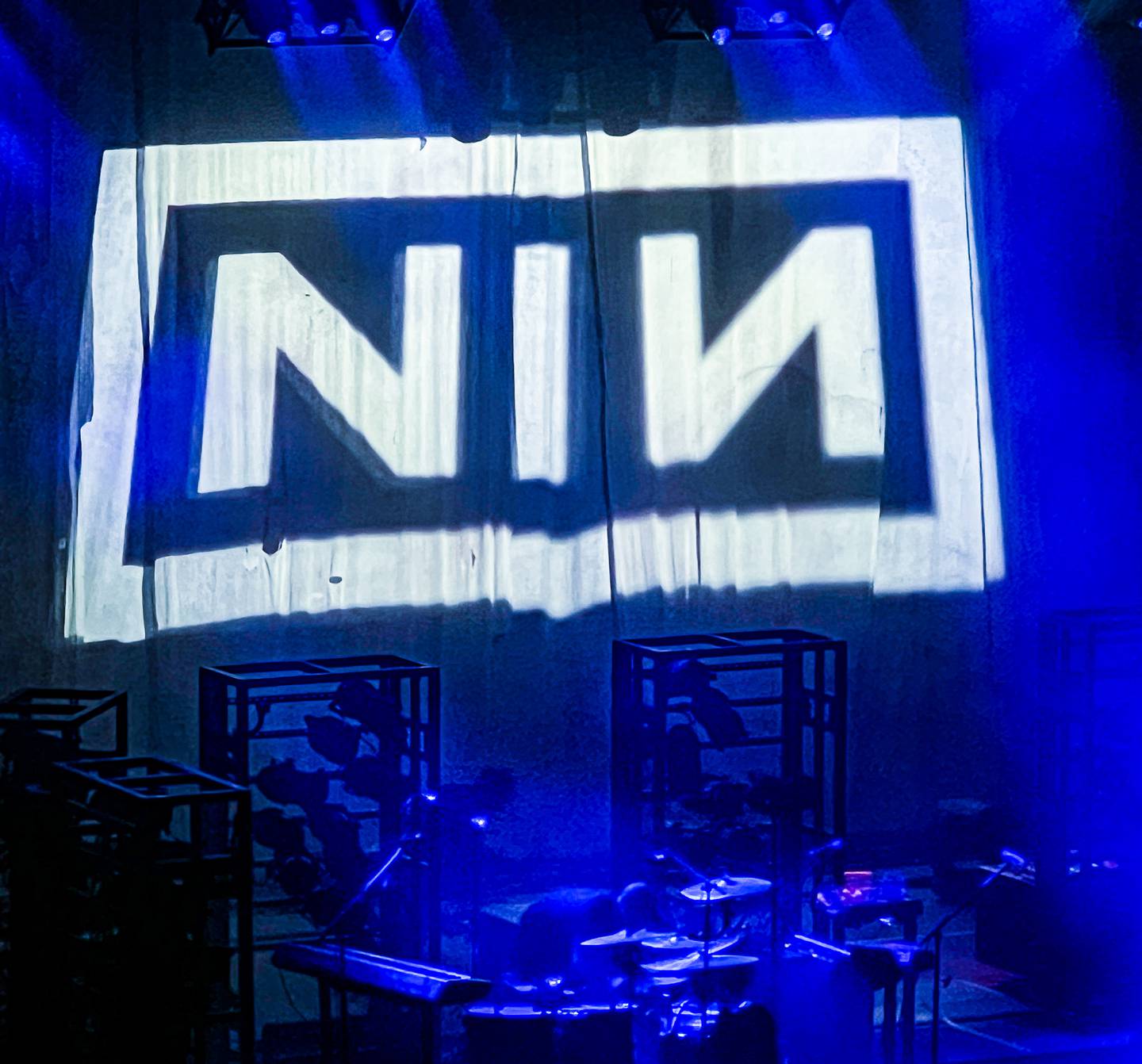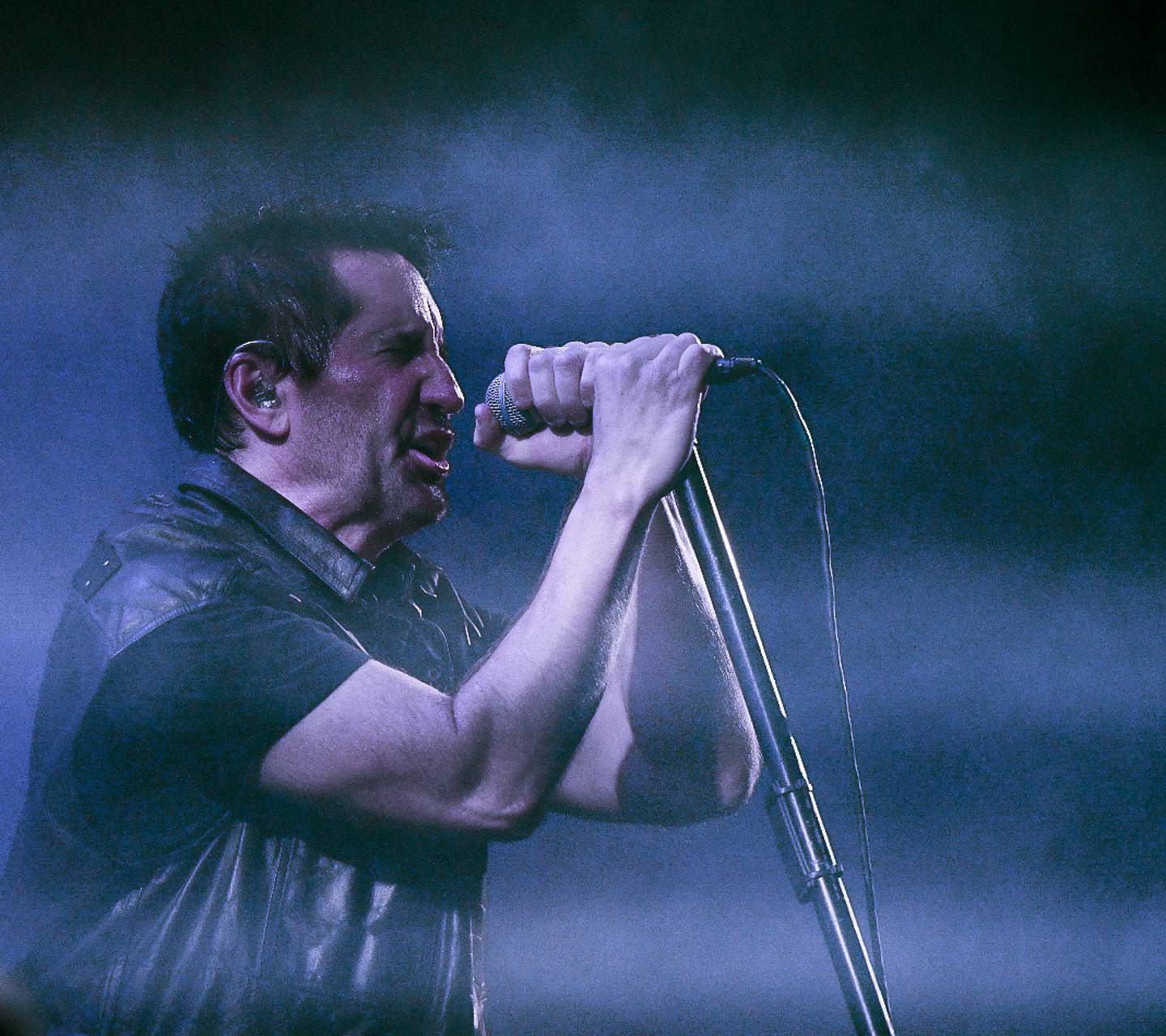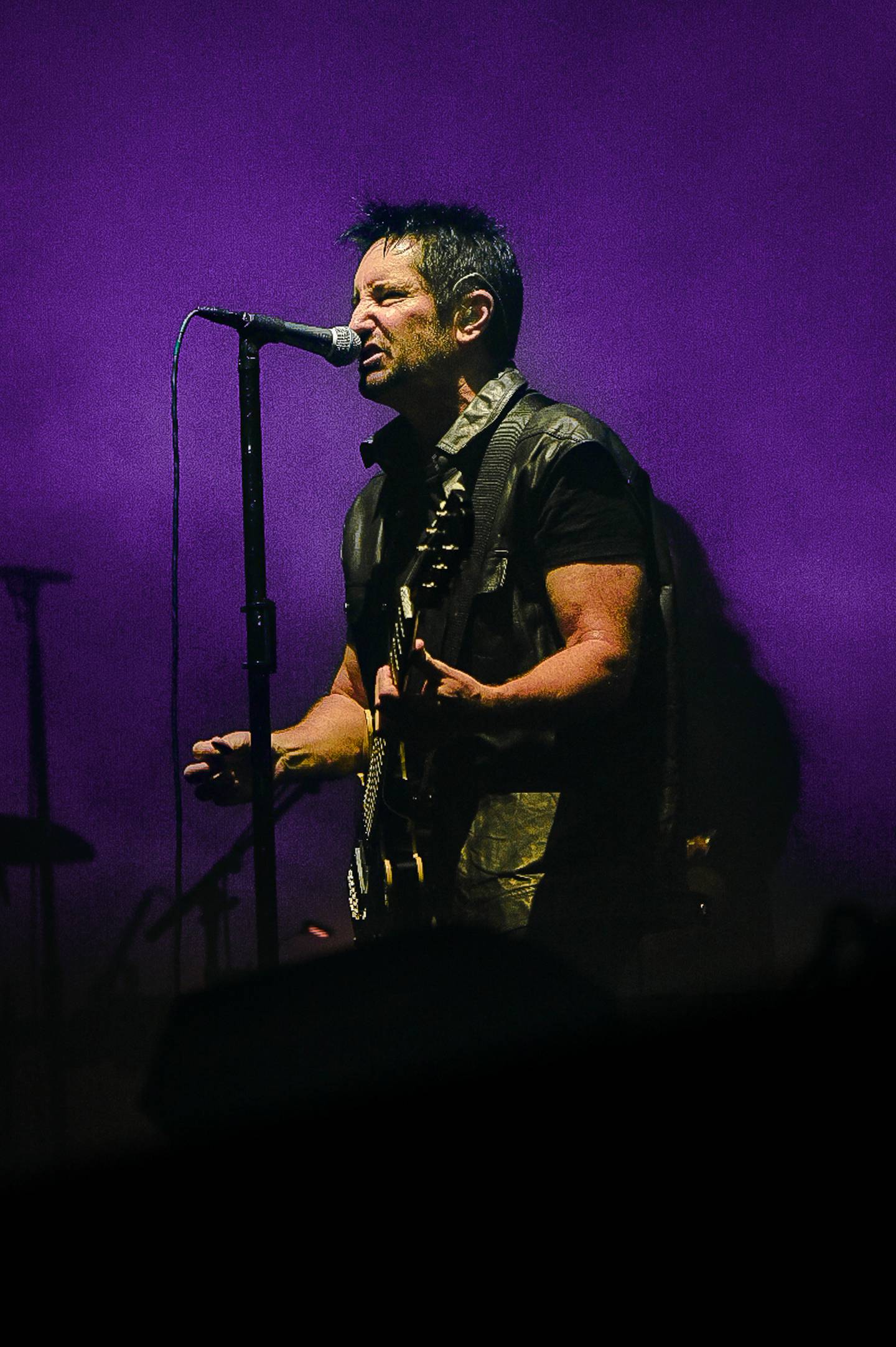 Copyright 2022 WECT. All rights reserved.