WILMINGTON, N.C. (WECT) - Every time the calendar changes, I'm filled with both joy and sadness.
January is my birth month, with my birthday falling on Inauguration Day (so every 4 years is either very fun or very bad). January is also when I lost my dad, 5 years ago in just a couple of weeks. I was thinking about him the other day as a Pink Floyd tune played, and remembered us frequently going to pick up BBQ. He loved it, as do I, so I thought "let's see what Southeastern North Carolina has to offer." However, since I moved here years ago, I would ask my chef friends "who has the best BBQ?" The universal answer has been "no one."
Now that's not to say many of the BBQ joints around town don't have faithful followers, I just took the pros for their word instead of being the curious foodie that I should be. That changed this week though when I made a stop at Leland Smokehouse. Situated within the shops at Waterford, it's the last place you would think a traditional BBQ restaurant would be located.
The dining area is huge, with each table complete with a variety of sauces, and there is a separate sauce bar with the full lineup, ranging from sweet, to spicy, vinegar-based sauces and my favorite Alabama White Sauce (you can even load up on homemade pickles and pickled jalapenos).
The menu has just about anything you could want, from sausages, and chicken wings, to brisket, and ribs. Plus there is a host of classic sides, like mac and cheese, baked beans, white slaw, and collards.
My friend and I split the "Pick Three," which comes with your choice of three meats and two sides. We went with a half-pound of brisket, half-pound of pulled pork, and 6 smoked, jumbo chicken wings. For sides, we settled on mac and cheese and potato salad, then tacked on some slaw and an order of hushpuppies.
That all came to about $35, which given the absolutely obscene amount of food, was a fair price. If you're going by yourself, I would suggest getting a smaller combo, as this was entirely too much food for two people, but it was absolutely delicious.
Let's start with the hushpuppies. They are simply small, crunchy balls of fried batter with large corn kernels inside. Almost more of a mini corn fritter served with regular and homemade cinnamon butter (which you could easily eat with a spoon).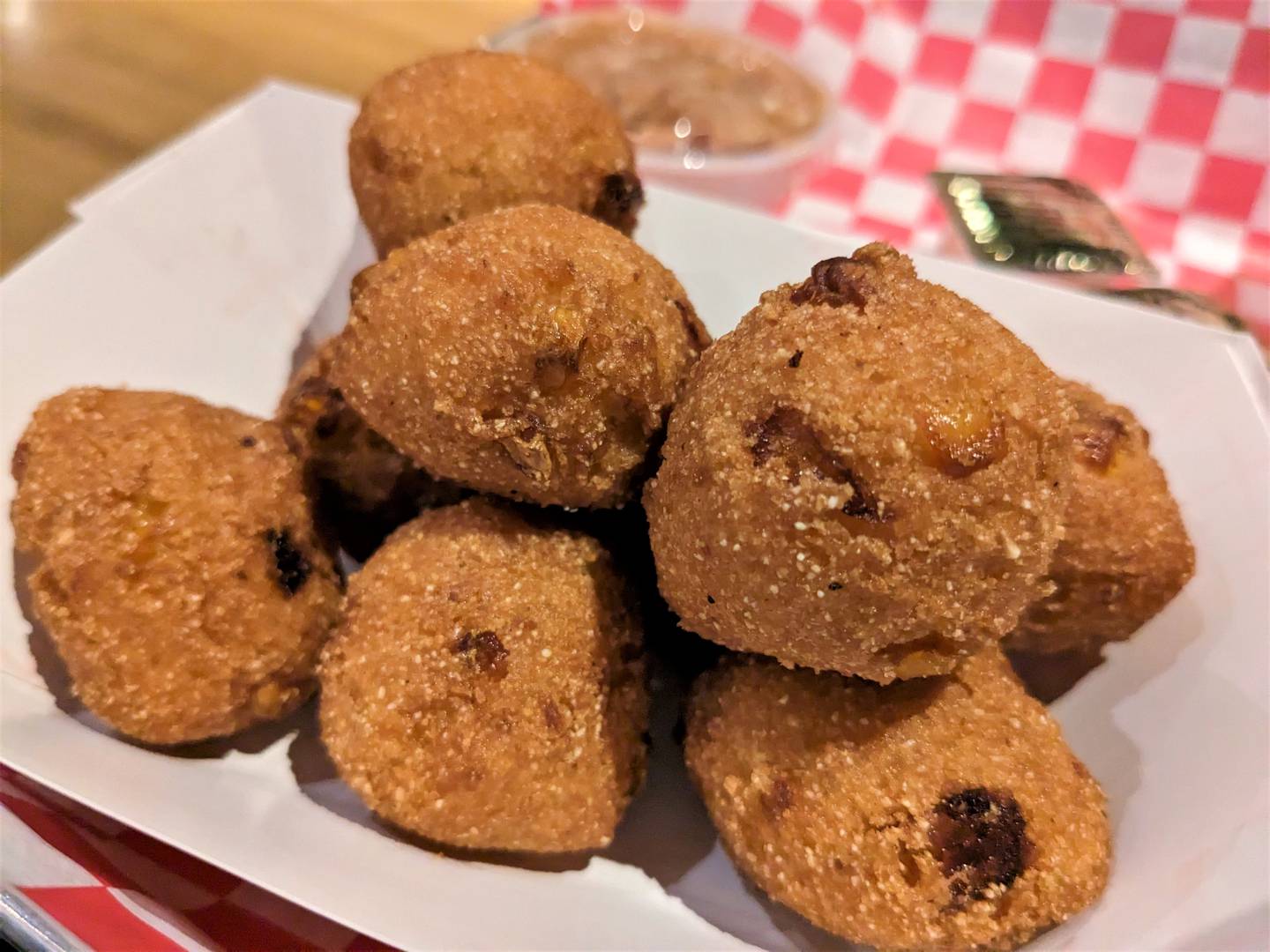 Moving on to the platter, the brisket was expertly smoked, juicy, with a lovely crust. The pulled pork came in a mound and was perfect for trying all the different sauces (the sweet, spicy, white, and mustard were our favorites).
Then you have the chicken wings. Those chicken wings. Huge is the best way I can describe them. Smoked and crispy, the server suggested getting them naked and so we could try the different sauces. Good call. These rival just about any in town, they are that good.
Of course, what is a BBQ joint without the sides? You can work magic at the pit, but if your sides aren't up to par, it can ruin a plate. Leland Smokehouse makes good here though, the mac and cheese was straightforward and tasty. The mayo-based white coleslaw was spot on, while I would prefer a more yellow mustard-based potato salad than what is offered, this was just fine.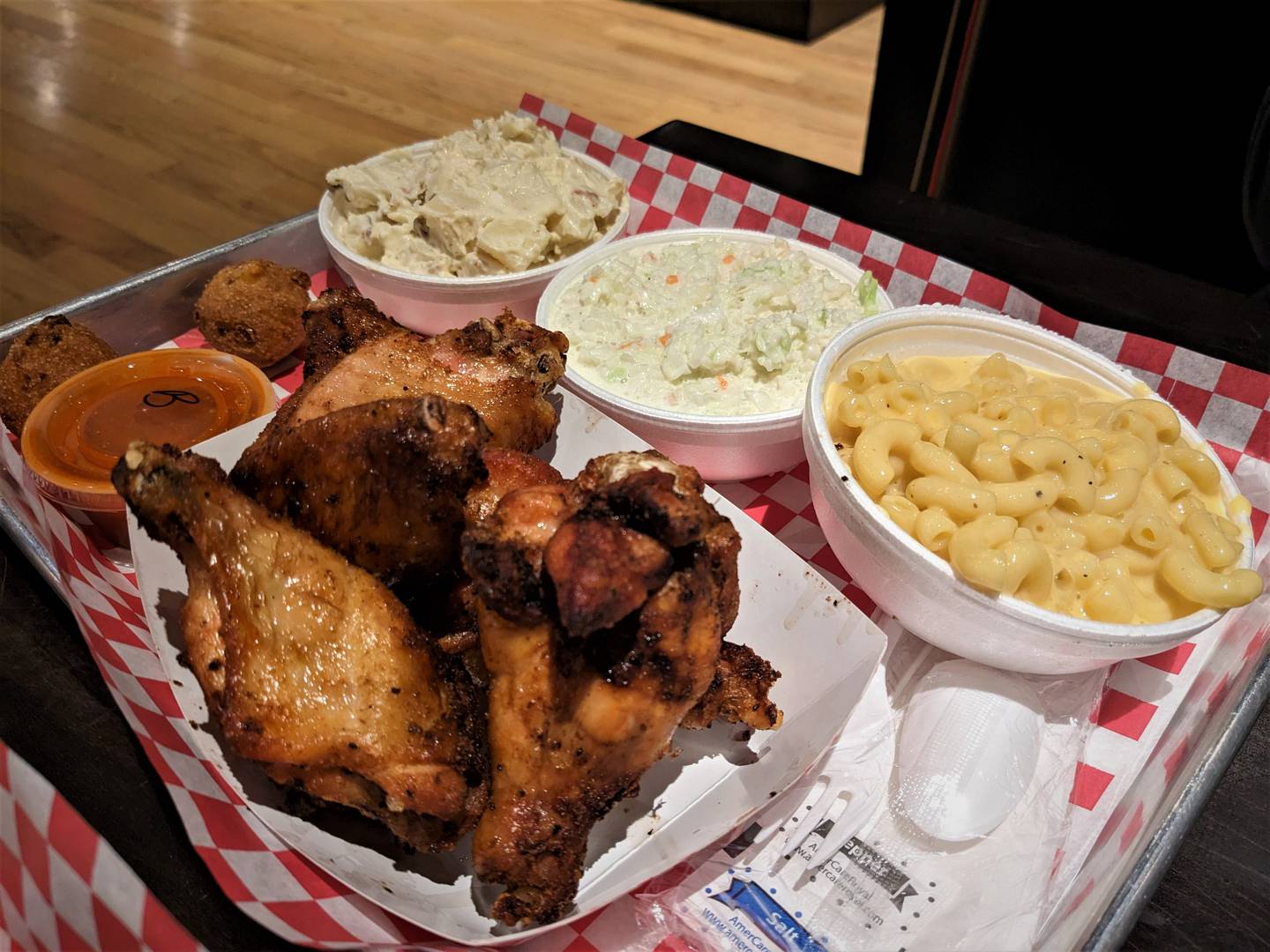 Put it all together, and Leland Smokehouse puts those "no one has good BBQ" comments to rest. The service is friendly, the prices are fair, and the portions are huge. My only regrets are not coming here sooner, and not ordering the banana pudding. That was my dad's favorite, he would not be happy with me!
IF YOU GO:
Leland Smokehouse is located at 503 Olde Waterford Way Ste 100, Leland, NC 28451
Do you recommend a restaurant? Or know of a best-kept secret that you want the rest of the Cape Fear to know about? Shoot me an email at corey.preece@gray.tv and I would love to feature your selection. Cheers!
Copyright 2023 WECT. All rights reserved.