WILMINGTON, N.C. (CAPE FEAR WEEKEND) -
The end of the year is always an interesting time. Winter slowly sets in, and somewhat sunny days turn into cooler nights. Venturing to indoor music venues becomes the warmest of places to be in the cities throughout North Carolina, with people of all ages crammed together idolizing strange musical characters. I got the opportunity to see Starcrawler, one of LA's new punk rock bands play in Durham at The Pinhook on November 11…or so I thought. I emailed their management teams ahead of time and even bought tickets way in advance to find my name wasn't at the door. Luckily, I had an online receipt of my ticket purchase and a supposed press pass so I could get in. The Pinhook is tiny but manages to make a name for itself in the Triangle Area and beyond. Known for its support of independent artists and a LGBTQ+ friendly atmosphere, the concert felt more like a celebration of freedom and fun. The venue sits on Main Street in downtown Durham. I got through the main door, but I had one more to enter - backstage.
When I got to the back of the Pinhook, I managed to find an entrance to the basement greenroom. A sincere employee ran down the stairs to find the band's tour manager. They asked why I was there and mentioned that I contacted them prior to take photographs of the rocking and rolling Starcrawler. My Penny Lane-inspired coat wasn't enough to get me through apparently. There was a decent amount of hesitation as their tour manager looked at me carrying bulky camera gear. He claimed that the equipment wouldn't fit backstage, however, I was determined to find a spot. The next step was to try it out and bring the camera gear down the steps. I was granted special access and finally made it.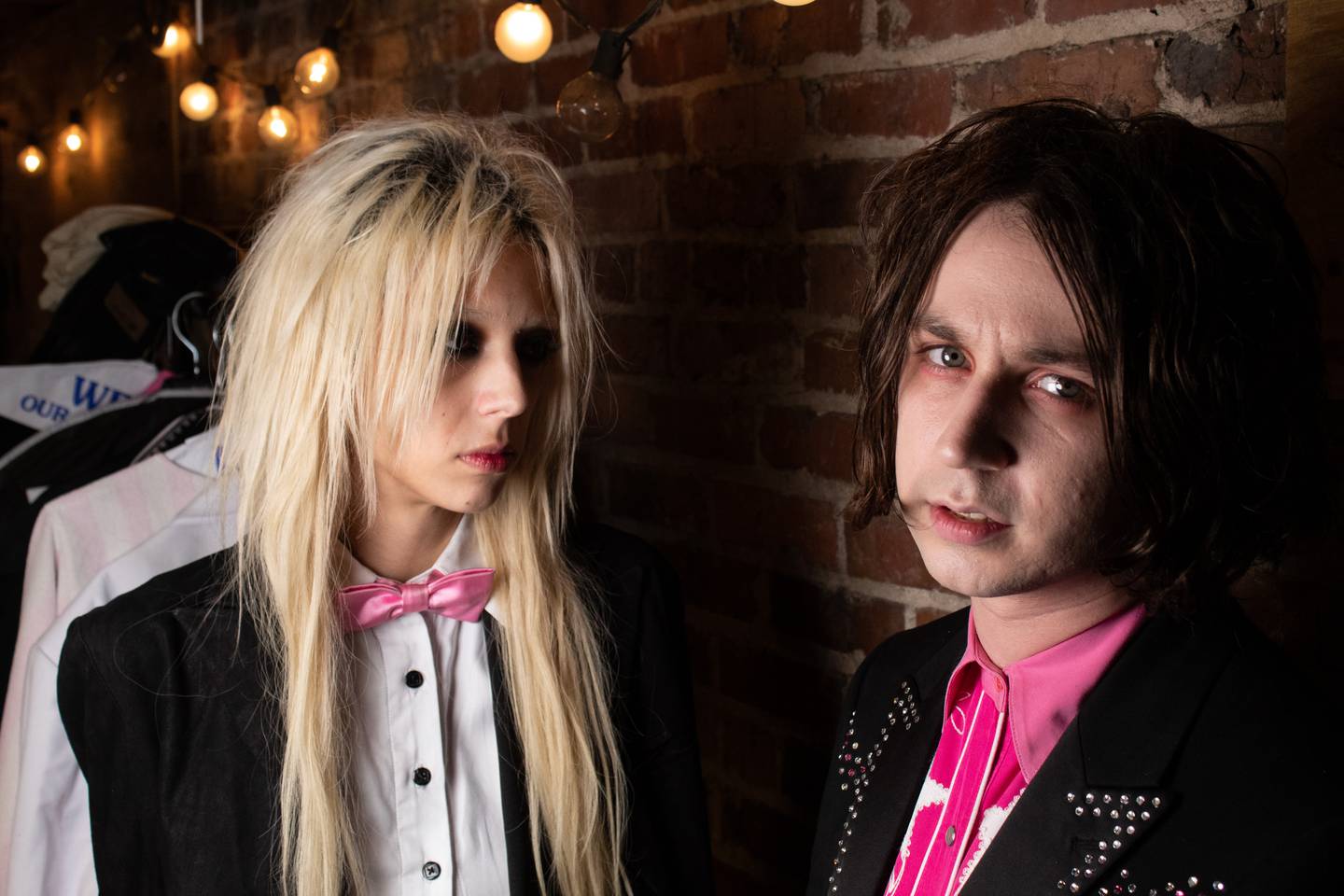 There was hairspray, bass players holding steamers, eyeliner, and a complaint about the dry cleaner's detergent water that left a moldy smell on their tuxedo renditions that were already dangling in a moldy basement. I decided not to record lines from anyone because the scene said enough. These were kids around my age who were more normal than I thought they'd be, and they just wanted to go and play some songs.
The show began at 9pm with the Raleigh based band Newspaper Taxis. I got a chance to chat with their members and get a couple photos too. Members Ben, Steven, and Matios were excited to announce that "we've got a lot of new stuff coming down the pipe, we're really excited to play the Pinhook and support Starcrawler. It's a great turnout, the biggest show we've ever played and we're just glad to be here." Their gratitude was mutual throughout the crowd as their fun retro inspired tunes made the audience bop along and jam out. Newspaper Taxis brought groovy beats and fun guitar riffs to the stage with new songs such as "Sweetheart" and more.
Starcrawler was next. That's when I had to get out of the way and move off the walls falling apart so they could get themselves on stage. It was time for the band to make their entrance and it was too good to be true as Starcrawler opened with "Goodtime Girl." As I saw the band ascend the steps to the stage from the greenroom, lead singer Arrow De Wilde mentioned how the intro to this song always gives her anxiety (shockingly for such a cool lady with outstanding stage presence). From there, hits from their previous albums and their latest album She Said made the crowd electric. From crowd surfing to guitar solos executed while circling around the floor by the audience, the band made the night come alive.
Both nights in North Carolina were sold out in both Durham and the following in Charlotte. Their Charlotte gig opener on November 12th called, The Girls, is a local Wilmington glam rock band that puts on a show on and off the stage. With their eccentric seventies inspired punk fashion and unflinching attitudes towards the ketchup bottle and life itself, I had a moment to meet and photograph them at the legendary Pop's Diner in Carolina Beach. Their lead singer JP Verardi stated, "we're trying to bring something back that doesn't really exist anymore."
Drawing inspirations from Johnny Thunder of the New York Dolls to Suzi Quatro, The Girls have a lot going on, including a new single called "Drama Queen" out December 15.
With the growing North Carolina music scene, we can expect more gigs and releases in the next months. Live Oak Bank Pavilion just agreed to amend their contract with Live Nation to bring more shows to their facility in the next year. Here's to a 2023 with more live shows and great memories, hopefully with a backstage that can fit the whole crowd.
Copyright 2023 WECT. All rights reserved.